It is used in case of installing the carburetor with utilizing the fuel pump for injection.

There are the two types 'for high pressure'and 'for low pressure',
but please use properly depending on the return pipe size and the circumstances between cars. .

- For high pressure (HI) the burning pressure of 0.3Mpa
0.025 - It lowers to 0.03Mpa.
- For low pressure (LO) the burning pressure of 0.1MPa
0.025 - It lowers to 0.03Mpa.
*Concerning a part of Toyota cars,
their return pipes are thin, so please use the low pressure type since the other type cannot reduce the fuel pressure (which corresponds to 160ps at most).
In case of exceeding 160ps, please remodel the return pipe and use the high pressure type.
| | |
| --- | --- |
| High Pressure | |
| Low Pressure | |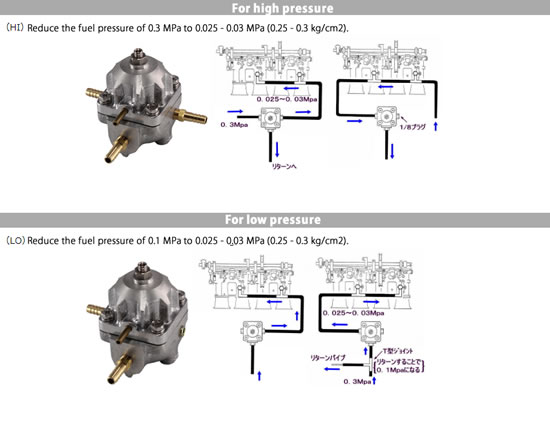 *Please see part list for details.
*We can sell OER products all over the world except Japan.
*Shipping Charge is not included in a price.
*Please contact us before putting articles in cart to know shipping charge.
*Price is Japanese Yen.
*We despatch commodity within 3 working days after receipt of your payment.
Please refer exchange rate in following website.http://www.oanda.com/convert/classic
| | |
| --- | --- |
| Origin | Japan |
| Net Weight | 500g |